What better way to complement the new generation of startups and young entrepreneurs today than the idea of having the freedom to choose how and where to operate a business? Renting an office space in the UAE is not a headache anymore.
Today, setting up a business in UAE is not anymore restricted to people with large capitals or entrepreneurs with high profiled backers who can finance the high cost that come with business setup. The government and the business community have evolved into a much flexible, business-friendly environment. Making it easier for startups, SMEs, and even freelancers to access the greater UAE market without having to worry about office locations or facilities. Entrepreneurs of today are now offered with practical office options that save them from breaking the bank with huge office rental costs. 
Things to consider before renting an office space in the UAE
If you are an up and coming entrepreneur in the UAE, here are the things you need to consider when choosing a suitable office solution for your business:
1. Size of the team
It's not uncommon in the UAE to start a business with a small team of two up to five. Businesses with small teams are usually service-oriented in nature, which means that they don't need large manpower to operate. By using their professional expertise in specific fields (such as accounting, photography, marketing, etc.) to make profits, they can work and operate almost as far as their jurisdiction can allow. These types of businesses are more flexible in choosing an office solution that matches their needs. However, if your business requires a team of 10 people and above to operate, the only recommended solution is to house your team in a traditional office space.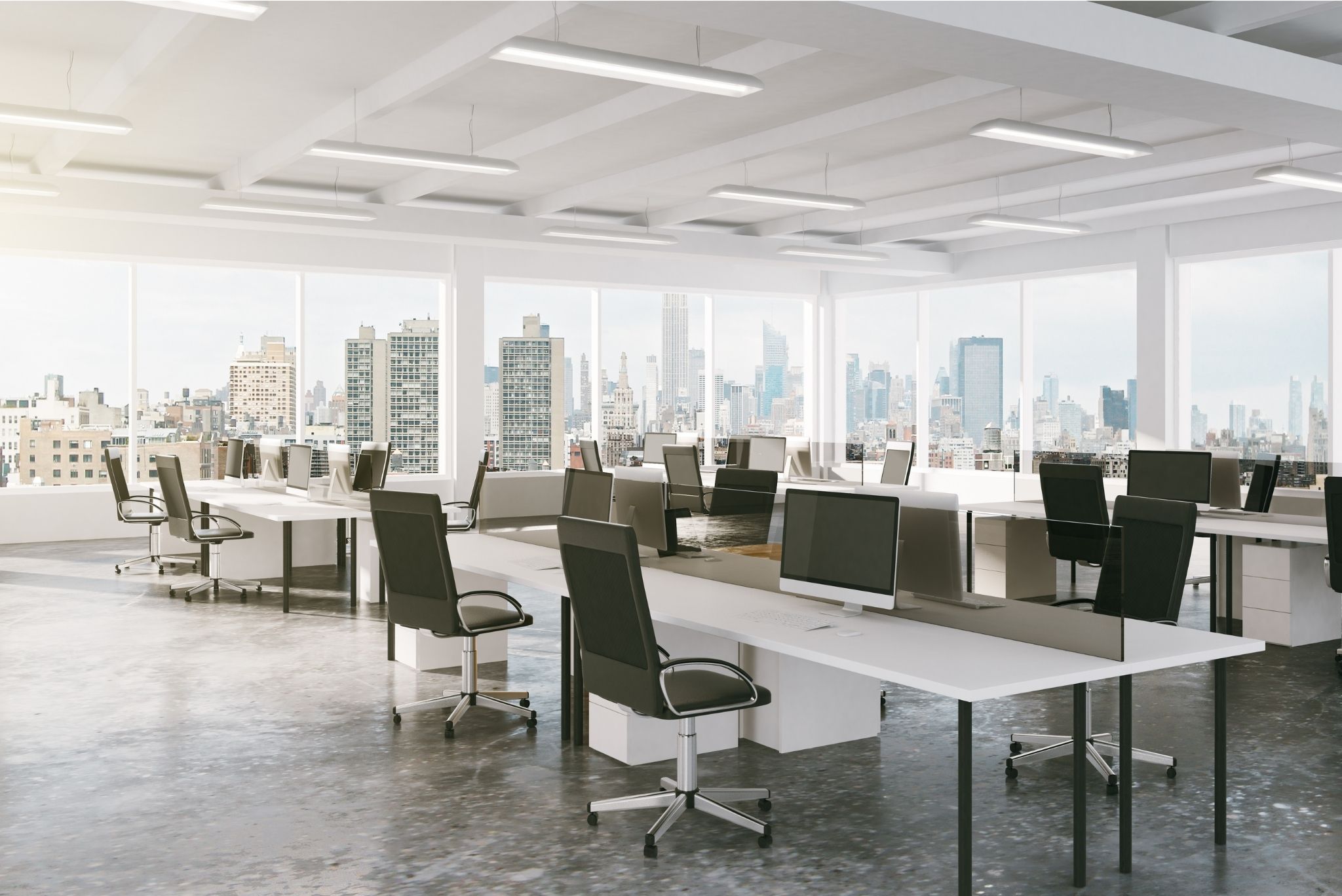 2. Visa allocation
Setting up in the Mainland gives you access to sponsoring unlimited visas, which means you can hire as many people as your business requires and as long as you meet the required office size. The more you increase your team, the bigger your office space should be––and this means higher rental cost.  On the other hand, free zone businesses usually have limited visa allocations or are controlled by a quota imposed by the free zone authority. The good part is, small teams with such limitation have much lesser expenses on rent and utility bills. They can avail Flexi-desk or shared space solutions that are readily available in the free zone as well as a virtual office. 
3. Storage needs
If your company involves storing products or importing or exporting goods, both mainland and free zone business setups will require you to have a proper warehouse to conduct business. Most free zones in the UAE have pre-built warehouses and lands for lease, which come in handy for businesses that are restricted to operate within the free zone. A mainland business setup, however, is much more flexible in terms of choosing where your business can reside as well as a wider option of warehouses anywhere in the UAE.
4. Future expansion
Whether you are just starting up or not, thinking ahead about future expansions doesn't hurt. It means preparing your business for scaling up. If your business has the potential to grow within a year that would eventually require you to add more people to the team. Having the appropriate office space from the start is the way to go. If the case is the opposite and there's no other reason to rent a big space. Opting for coworking or shared office until you're ready to expand is the most practical way for you.

Different office options in the UAE
1. Flexi-desk, coworking space, and virtual office 
The most cost-effective solutions for startups that are gaining popularity today are Flexi-desk, coworking space, and virtual office. These three office alternatives have common advantages to small businesses such as the low costs and top-notch admin services that come with it. Admin services like mail-handling, phone-answering, prestigious business address, dedicated business phone number, and shared fax are just to name a few. Here's how these three differ:
A Flexi-desk is basically a desk in a shared office facility. Free zones offer different packages that fit your budget and based on how frequent you would use a desk. They are usually charged per hour, which also allows you to top-up when you need more hours. 
A coworking space is essentially a large communal space where most freelancers and entrepreneurs come together to work. It is the most popular working arrangement nowadays. It results in a high rate of collaboration among like-minded individuals and a chance to network with entrepreneurs from diverse industries. 
A virtual office is one that allows you to work anywhere and even at home. Yet it gives you the benefits of renting office space. Like having your own business address, a phone number, and even a phone-answering service. 
2. Traditional office space
The most overly used when starting a business in the UAE is a traditional rented office space. Entrepreneurs are often hampered by having to bear the high cost, but it still works for so many reasons. The advantage of having your own rules, the physical presence that most of your clients would immediately look for, and the credibility it provides to you and your business. 
3. Warehouses and land or plots for lease
For most businesses that trade or manufacture goods, warehouse solutions are mostly available for lease in the free zone and Mainland. Lands and plots are also being let for companies that need to build their own facility, which is common for industrial activities. 
While you may think that you can choose any type of office space in the UAE, it's always advisable that you seek professional advice from company formation specialists like Decisive Zone. They can advise you on the specific guidelines and rules when choosing an office location and space that are legally allowed for your businesses.